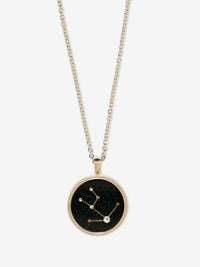 Taurus Night Sky Necklace
$3,500
18.3mm Coin; 18k Yellow Gold, White Diamonds, Aventurine Glass & Crystal 
The charms are hand-crafted in Aventurine glass, a translucent glass with 18k yellow gold and crystal inclusions, symbolizing the starry sky, with each constellation outlined in diamonds against the sparkling backdrop. The name of each constellation is elegantly engraved in the back.
18" Non-Adjustable Chain
Made and hand-finished in LA, each piece sold helps ocean-related causes.
Ready to Ship: Ships in 3-5 business days
Made to Order: Ships in 4-5 weeks
Made and hand-finished in LA, each piece sold helps ocean-related causes