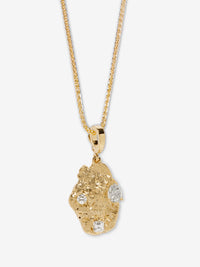 Diamond Scattered Large Gold Nugget Charm
$6,700
Eclectic pendants in rich 18k yellow gold punctuated by scatterings of precious gemstones in regal colors. A playful yet elegant contrast against the vibrant gold. Modern treasures reminiscent of ancient artifacts and precious relics.
18k Yellow Gold, .35ct Diamond Pear , .18ct Carre Diamond, .10ct White Diamond
Size and shape will vary due to the raw, natural nature of the nugget.
This charm comes on a charm clasp. Meaning the clasp opens and closes and can be taken off or put on any chain

Made and hand-finished in LA, each piece sold helps ocean-related causes
Ready to Ship: Ships in 3-5 business days
Made to Order: Ships in 4-5 weeks
Made and hand-finished in LA, each piece sold helps ocean-related causes